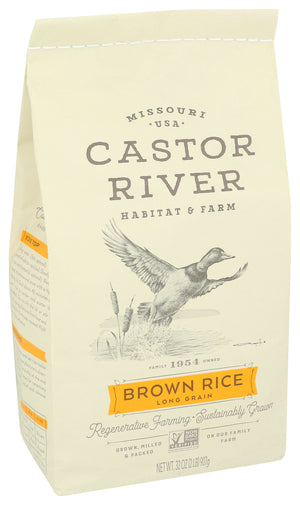 Long Grain Brown Rice
Sale price Price $6.99 Regular price
Our long grain brown rice offers added nutrition to any meal. It's great tasting, Missouri grown, and anything but ordinary.  Grown with Mother Nature in mind, Castor River does not till, burn, FLOOD, omission of fungicides plus insecticides and the use of a cover crop on 100% of our land.  
Doing what's right is almost never easy, if it was, then everyone would be doing it. 
Since 1954 Castor River has been the dreamer, the risktaker and the doer of all things good for our farm, our community and our planet.  Regenerative agriculture
allows our farm to continue this legacy as we grow our crops in concert with nature. 
Castor River isn't simply a brand; it is the realized vision of what is possible when sustainability is the cornerstone of a family farm.


Price excludes tax, shipping and handling.